My friend Christa, who blogs over at Brown Sugar Toast,
shared the following with us this morning, and I felt it was
a very worthy cause and wanted to share it here as well ~
I want to tell you about a little friend. His name is Jordan Ocampo. Jordan is 2 – the same age as my daughter. Here's a picture of the 3 of us (from Christmas 2010):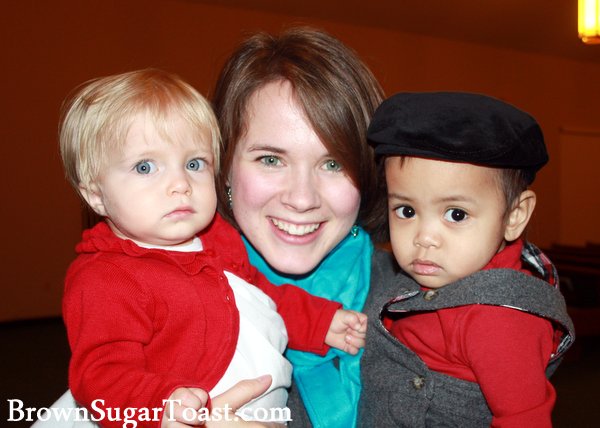 Jordan was born on July 25, 2009. He was a healthy and happy little boy.
At his 12 month check-up, the doctor was concerned about his weight and ordered routine lab work for him. The doctor was concerned about Jordan's calcium level, so he had Jordan come in the next day to re-do the lab work. After receiving the same results with the second test, Jordan's doctor sent him to the emergency room. From the ER, they sent Jordan to ICU to have emergency hemodialysis.
The end diagnosis?
Chronic kidney disease
, also known as end stage renal disease. Jordan is now on the waiting list for a kidney transplant.
The Ocampos are a sweet family in my church. As their church family, we have been praying for Jordan and working to raise money for his transplant-related expenses. We are working through the Children's Organ Transplant Association (COTA) and their estimated cost for Jordan's procedures is $40,000.
One of the ways we are seeking to raise money is by doing a Walk-a-thon entitled "Walk for Jordan." If you are in the Charlotte area, please consider joining us on May 5! More
details can be found here
.
However, I know most of you do not live in Charlotte, and cannot attend the Walk-a-thon. And I'm sure none of you have $40,000 you've been wondering what to do with…
So here's my request:
Would you consider giving $5 to Jordan?
$5 by itself is not a lot. I know. And I'm not going to tell you something like, "For every $5 you give, Jordan will live one more day!" Because it's not true.
But if we all give a little, we'll get to our goal of $40,000.
Whether you can give $5 or not, please pray for Jordan. Pray that:
the funds will be raised
a transplant will soon be available
Jordan's parents (Cisco & Cora) will have wisdom and strength
If you choose to give,
head to this secure site
where you can enter "$5″ in the "Other" field. If you want to learn more, a
short video
has been made about Jordan's story or you can check out the official
COTA website for him
.
Thank you for your help in making a miracle!
Thanks, Christa, for bringing this to our attention.